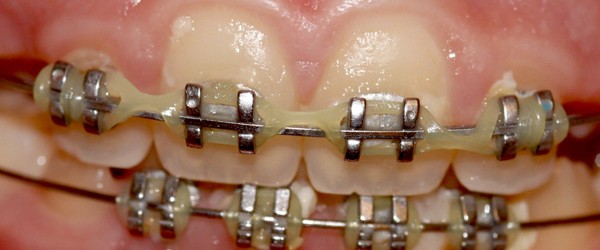 If you are considering getting braces to fix your teeth, you may have a hard time choosing between traditional braces and more modern orthodontic treatments like Invisalign. The price of Invisalign may be a lot more expensive than traditional orthodontic treatments, making people think twice when they are presented with the two options, but there are multiple benefits to the treatment which can help justify the expense. Both methods are used for straightening your teeth, however, each has its own unique characteristics that you should be aware of before making a decision which to use.
Braces work by using small metal brackets that are glued to your teeth. In most cases, these brackets can be seen easily when you speak, smile, or open your mouth. Invisalign, as the name implies, is designed to be invisible. This means that most people will not notice that you are wearing it to fix your teeth, allowing for a more subtle approach to tooth realignment. Invisalign is also removable, so you can remove it when you eat a meal or clean your teeth and put it back when you are ready. It's much more convenient than braces in this respect, with almost all traditional braces being permanently fixed in place.
For braces, you will need a treatment period of approximately 2 years, depending on your personal needs. Invisalign requires less time, from 6 to 18 months on average, replacing your aligners with a slightly different one every couple of weeks. Regular dental visits will be required to monitor the results, but overall it's a very 'hands-off' treatment. For people wanting to fix their teeth quickly, Invisalign is an obvious choice, provided they have sufficient funds for the treatment.
With Invisalign, you will have no issue with food getting caught up in the braces and no difficulty with eating at all. However, you should clean your retainers each time after eating to avoid staining them. Many people wearing braces reported that they have difficulties eating sticky or hard foods and at the end of the treatment period, they ended up having discolouration on some of their teeth as a result of wearing braces for an extended period of time. This should not be a problem with Invisalign because you can easily remove your trays to brush and floss your teeth..
If you can afford the treatment and your are a suitable candidate, Invisalign is an excellent choice when it comes to straightening your teeth. Many cosmetic dentists offer Invisalign as part of their list of services, so check your local area to see if you can find a provider.